Palestine is the heart and Kashmir is the jugular vein of Islamic world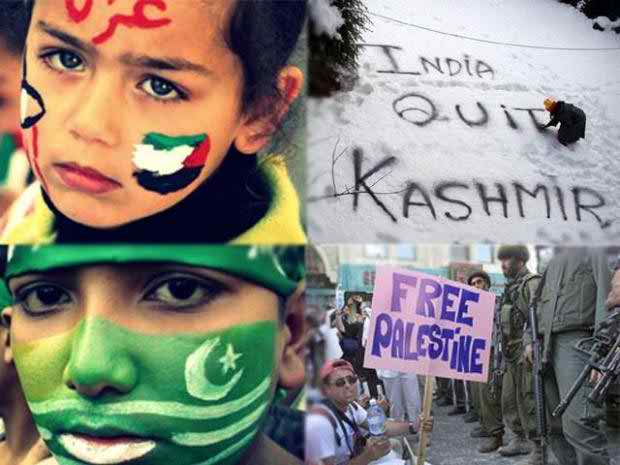 (PNIC) – Zionist and Indian occupation of Palestine and Kashmir are the result of callousness of international organizations
Government of Pakistan should play its role for resolving Palestine and Kashmir issue
Muzaffar Ahmed Hashmi, Allama Abbas Kumeli, Qazi Noorani, Molana Baqar Zaidi, Mehfooz Yar Khan, Haleem Adil Sheikh, Azhar Hamdani, Zahida Bhand, Tariq Shadab and Sabir Abu Maryam expressed thoughts
(Karachi): "Palestine is the heart and Kashmir is the jugular vein of Islamic world and Zionist and Indian occupation of Palestine and Kashmir are the result of callousness of international organizations", these thoughts were expressed by central leaders of Palestine Foundation Pakistan including former member of National Assembly and vice President of Jamat e Islami Karachi Muzaffar Ahmed Hashmi, head of Jafria Alliance Pakistan Senator Allama Abbas Kumeli, central leader of Jamiat e Ulema e Pakistan Allama Qazi Ahmed Noorani Siddiqui, President of MQM's legal aid committee Mehfooz Yar Khan Advocate, MWM Pakistan's Molana Baqar Zaidi, PML-N's Azhar Ali Hamdani, PTI's Haleem Adil Sheikh, President of PML-N's women wing Zahida Bhand and central secretary general of Palestine Foundation Pakistan Sabir Abu Maryam in a joint statement issued in accordance with Kashmir Day.
They said "Oppressive Zionist state Israel and extremist India have become a threat not only to Palestine and Kashmir but for the whole world. If international organizations ant the UN, formed for establishing peace in the world, had taken serious measures for the resolution of Kashmir and Palestine issues then the world might have become peaceful". While expressing solidarity with people of Kashmir and Palestine they declared to continue supporting, both politically and morally, oppressed Palestinians and Kashmiris and to continue to raise voice in their support.
Leaders of Palestine Foundation Pakistan said "Blood of innocent people have been spilling everywhere but international powers have become insensitive. Israel has been occupying Gaza since 10 years and lives of more than 19 lac people are in danger due to this but international community and Human Rights organizations have become silent spectators. Similarly, innocent people have been killed in Kashmir but the world has become blind".
They declared injustices going on in Palestine and Kashmir since 67 years as parts of the same scheme and demanded government of Pakistan to keep resolution of Palestine and Kashmir issue in its priorities.