PLF-P Celebrates Pakistan 70th Independence Day, Cake Cutting Ceremony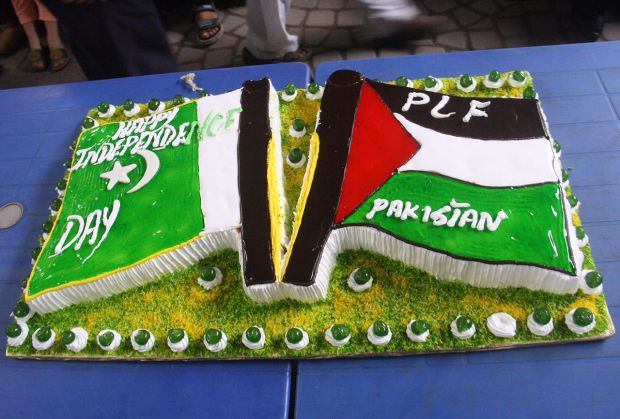 Karachi (PNIC):- Palestine Foundation Pakistan (PLF-P) celebrated Pakistan's 70th independence day today by holding a cake cutting ceremony at Karachi Press club.
The ceremony witnessed Secretary Karachi Press Club, civil society members and politico-religious leaders.
The participants commemorated Pakistan's Independence vowing to defend this great nation and its ideology put together by its illustrious founders. The day reminded them of their martyrs, paying tribute to their sacrifices. Scores were sacrificed to ensure the foundation of this nation and many a martyred in migration, ones in attendance decided to ensure that they were remembered saluting their efforts.
While talking to the press, the leaders appreciated all that were involved in the struggle not to mention Quaid-e-Azam, Allama Iqbal who gave up on all to give us this wonderful country. They cherished the nation which helps and supports the cause of Palestine. They anticipated that this nation who not forgo the Oppressed Palestinians in their dire time. Recollecting the leaders quote on Palestine, they pre-empted that nation, following their footsteps, will defeat every conspiracy brought in by the Zionist regime of Israel and India.
Dignitaries present during the ceremony included; secretary of Karachi Press Club Maqsood Yousofi, Members of provincial assembly sindh belongs MQM Pakistan Dr.Mahfooz Yar Khan Adv, Maj (r) Qamar Abbas, Former Member of Parliament and leader of Jamat-e-Islami Muzaffar Hashmi, Senior Leader of PPP Rashid Hussain Rabbani, Secretary General of Palestine Foundation Pakistan Sabir Abo Maryam, Qazi Zahid of PMLN, Israr Abbasi and Erin But of PTI, Allama Aqeel Anjum of JUP, Matloob Awan Qadri of APST, Naeem Qureshi President of Karachi Bar Association, Allama Amin Ansari and Allama Abdul Khaliq Fareedi of MUM, Syed Shabbar Raza of JAP, Khalid Akhter of HRN, Farhad Gul from JIY, Maaz Chishti a well known scholar, Abdul Waheed Younis of JUP and others.