PLF-P Slanders Trump Exposing The Zionists Agenda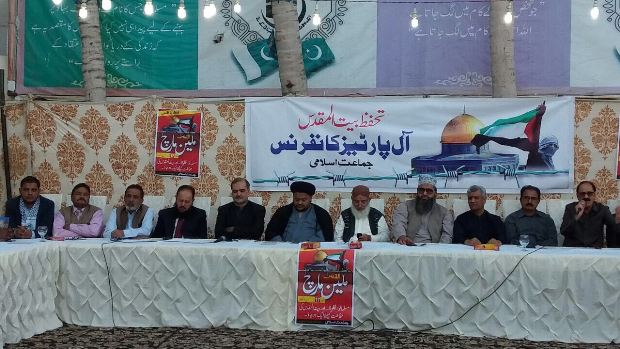 KARACHI (PNIC):- Sabir Abu Maryam of Palestine Foundation Pakistan (PLF-P) condemned regimes that stand hindrance to the freedom of Palestine in the limelight of Trumps recent statement at All Parties Conference called by Jamaat e Islami (JI) on Monday.
Abu Maryam, Central General Secretary of PLF-P, said that America Britain and other capitalist regimes are making all efforts to subjugate the oppressed nation of Palestine.
Many a religio-political parties were present during the occasion when Abu Maryam expressed the thoughts that Jerusalem stands as integral part of Palestine while these establishments are trying to usurp the said.
JI called in an All Parties Conference in the name of "Saving Jerusalem (Tahafuz e Quds)" led by Vice President JI Asadullah Bhutto.
Sabir seconded the call of JI for a million march in the cause of Palestine and recent Trump's statement.
Sabir condemned the Balfour Declaration (1917) which segregated the land of Palestine leaving thousands of Palestinians homeless in their own homeland. It was Balfour which led to this destruction and illicit seizure of the holy land of Palestine. Israel stands as an illegitimate state which no real standing. It's been now 100 years that their ideological son – Trump instigated a new conspiracy, handing out the land of Jerusalem to Israel, maligning the sovereignty of once a sacred land.
Dignitaries who attended the party; JI Karachi President Hafiz Naeem ul Rehman, ex-Federal Minister Muzaffar Hashmi, ex-Federal Minister Syed Zia Abbas, Shia Ulema Council Leader Maulana Nazir Abbas, All Pakistan Sunni Tehreek Matloob Awan Qadri, Jamiat Ulema Pakistan Leader Haleem Khan Ghauri, Nizam Mustafa Party Leader Alhaj Muhammad Rafi, Jamiat Ulema Islam (F) leader Qari Usman and Maulana Abdul Kareem, Qaumi Awami Tehreek's Mazhar Rahuja and many other.