PLF's Two Day Pictorial Exhibition held on Quds Day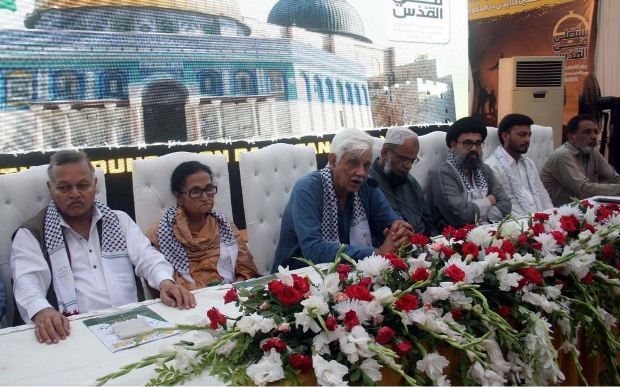 KARACHI (PNC):-A 2-day pictorial exhibition was held on main M.A. Jinnah Road Karachi on Quds Day on Friday where thousands of people visited and expressed solidarity with Palestinians.
The Quds Day Return Exhibition was organized by Palestine Foundation Pakistan (PLF).
Religious scholars, NGOs, Human Rights activists and people belongs all walking of life visited exhibition and appreciated the efforts of Palestine Foundation Pakistan for the legitimate cause of Palestine.
Life-size pictures of Palestinians strugglers and resistance and of Israeli crimes against humanity in Palestine were highlighted.
Senator Taj Haider of Pakistan Peoples Party, former MPAs belonging to MQM Mehfooz Yar Khan and Major Qamar Abbas (retd), former MNA Muzaffar Ahmed Hashmi, Dr Merajul Huda of Jamaat-e-Islami, Allama Syed Ahmed Iqbal Rizvi of Majlis-e-Wahdat-e-Muslimeen, Shabbar Raza of Jafaria Alliance, Mohammad Raza of Imamia Organisationm Imamia Students Organisation president Ansar Mehdi, Pir Azhar Ali Hamdani of PML-N, Israr Abbasi and Irum Butt of Pakistan Tehreek-e-Insaf, human rights activist Farzana Burney, former adviser Dr Aliya Imam and PLF secretary general Sabir Abu Maryam were among high-profile visitors who visited the pictorial exhibition.
They were inspired to see the PLF efforts for the cause of Palestine and expressed their support to pro-Palestine Quds Day for Return Exhibition.