Pro-Palestine protesters march in london calling for ending Israel's occupation of Palestine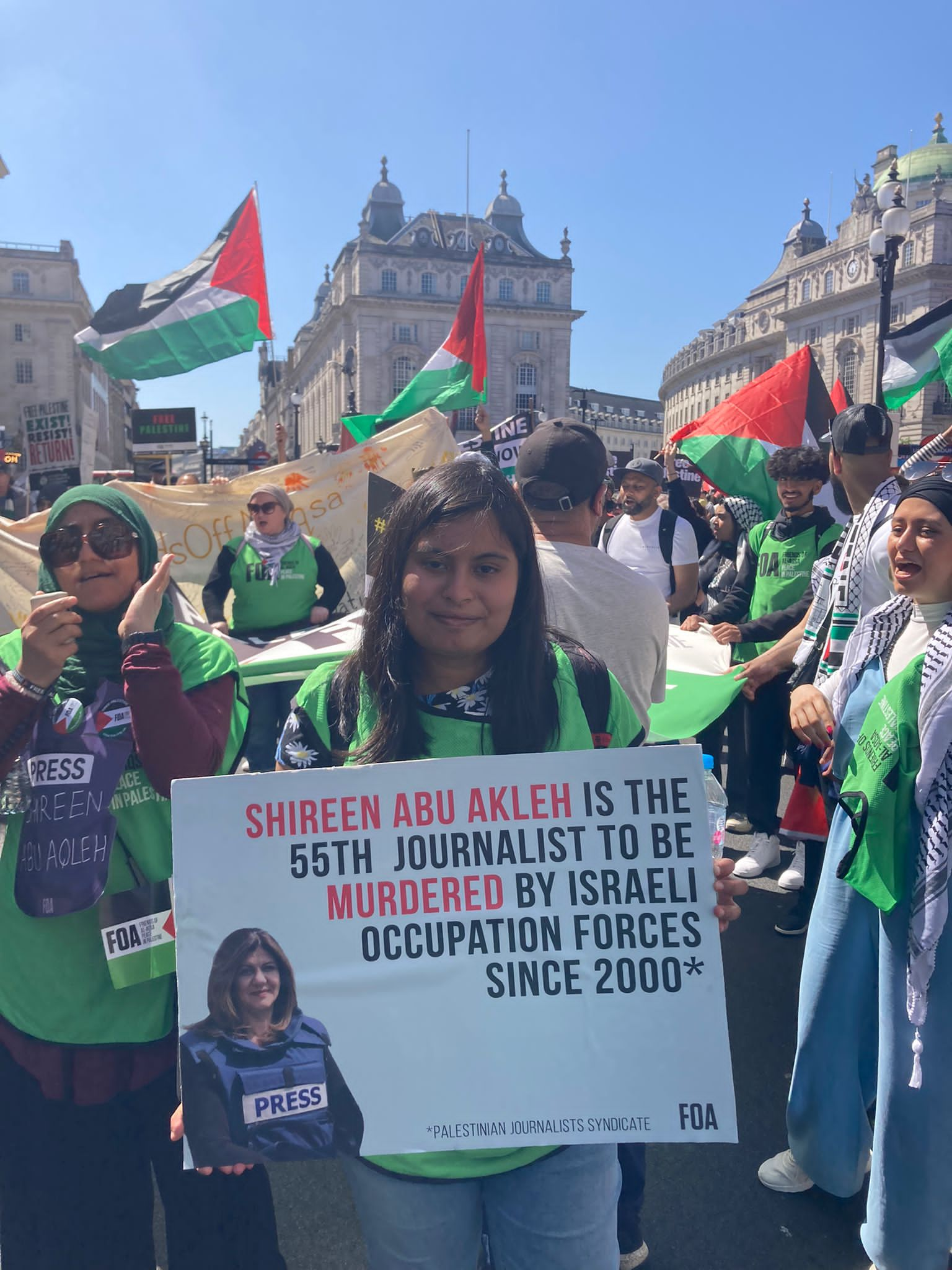 London – Thousands of pro-Palestine protesters marched in London on Saturday, condemning Israel's killing of Al-Jazeera's reporter Shereen Abu Aqleh and calling for an end to Israel's occupation of Palestine.
At 12pm today, thousands of protesters marched from the BBC to 10 Downing Street in London to commemorate the Palestinian journalist Shereen Abu Aqleh and to call for an end to 74 years of Israeli occupation of Palestine.
The march was called by Friends of Al Aqsa, Palestine Solidarity Campaign, Muslim Association of Britian, Palestinian Forum in Britian and Stop The War Coalition.
One year on from Israel's brutal 11-day aggression of Gaza which killed 67 children, protesters also demanded sanctions on 'Israel' for its ongoing war crimes, illegal occupation and apartheid policies.
Despite wearing a helmet and a vest that clearly identified her as a journalist, Abu Aqleh was shot in the face by a single bullet fired by Israeli forces while she was covering an Israeli military raid into the Jenin refugee camp, earlier on Wednesday. She was rushed to a hospital in critical condition and was announced dead soon afterwards.
Celebrated as "the voice of Palestine", protesters carried photos of Abu Aqleh as well as 55 printed press jackets to represent the 55 journalists killed by 'Israel' since 2000. Starting outside the BBC, the names of these journalists were displayed in a visual memorial to the journalists who have lost their lives at the hands of Israeli Occupation Forces.
There was also a space set up by Friends of Al Aqsa for people to write messages of condolences for Abu Aqleh.
Friends of Al-Aqsa protesters also chanted slogans for a free Palestine, BDS (Boycott, Divestment and Sanctions on Israel) and justice for Abu Aqleh.
There was also a variety of visual props for passers-by to engage with, including props to encourage individuals to boycott Coca-Cola and PUMA, both of which are complicit in the illegal occupation of Palestine.
Moreover, the demonstrators kicked around a ball with "Kick apartheid out" written on it during the march.
Protesters also called for an end to Israel's illegal occupation and apartheid in Palestine, recognised by many as the ongoing Nakba. The 'Nakba' or catastrophe started in 1948 when over 750,000 Palestinian men, women and children were forced to leave their homes to make way for the state of 'Israel'.
The protesters also held keys symbolizing the homes Palestinians were ethnically cleansed from by 'Israel'.