Secretary General of PLFP Sabir Demands SSC to Adopt Quaids' Policies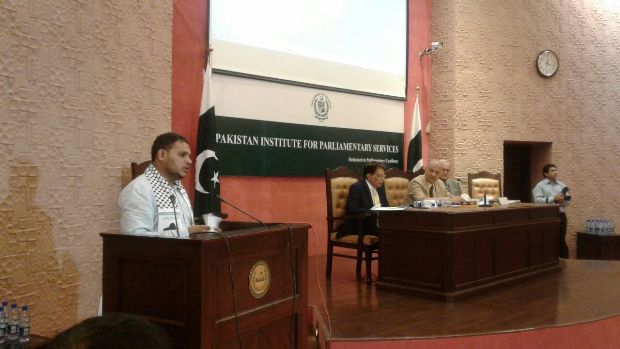 ISLAMABAD (PNIC)
:-Palestine Foundation Pakistan (PLFP) secretary general Sabir Abu Maryam demands of the Senate Standing Committee to adopt principles of Quaid e Azam's foreign Policy to bring a resolve to the issue of Kashmir and Palestine.
A conference was held by Chairman Senate Standing Committee for Foreign Affairs Senator Mushahid Hussain Syed at the Parliamentary Institute Auditorium to commemorate that 70th Nukba Day and the US move to bring its embassy to Jerusalem.
Many emissaries from different countries, PLFP Sabir Abu Maryam, Senator General (r) Abdul Qayyum, Senator General (r) Asad Durrani, Senator Sitara Ayaz, Senator Miyan Ateeq, Syed Nasir Gillani, Asif Kamal, Sheikh Jamal, Hameed Loan, Ijaz Hussain etc with Prime Minister Azad Kashmir Raja Farooq Haider as chief guest to the conference, all condemned the illicit zionist regime's act in Palestine.
They unanimously demanded United Nation to play its role in bringing peace to the region. Senator Mushahid Hussain Syed stated that Israel remains a criminal at war, heinous crimes are committed daily at its hand with innocent Palestinians as is victim and the world as its witness. Yet nothing is being done till date to prevent the atrocities. He stated that Pakistan will never back out or stay away from Palestine's cause no matter the consequences.
Sabir Abu Maryam, Secretary General PLFP, enlightened the audience on the Nukba event and the struggle of the Palestinians. He condemned the Saudis for their role in the region supporting the illicit zionist regime to attain their ulterior motives.
He asked other Arab nations not to follow suite, for soon the allegiance with US will reap sour effects.