Several Palestinians kidnaped by Israeli Occupation Force from WestBank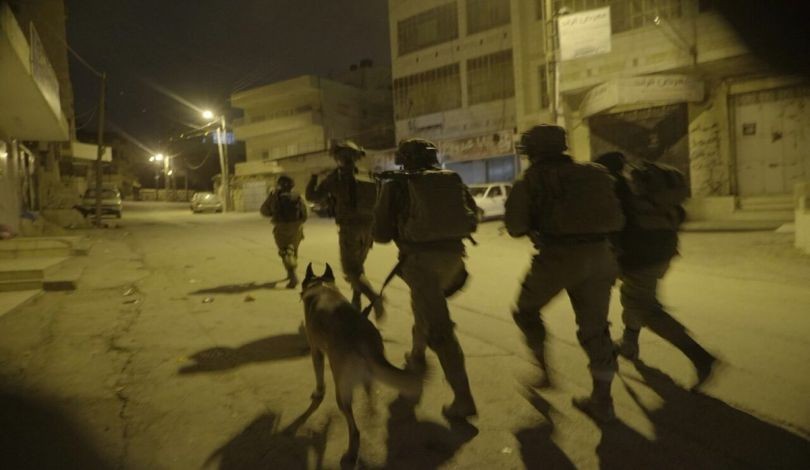 WEST BANK – The Israeli occupation forces (IOF) at dawn Tuesday kidnaped several Palestinian citizens during campaigns in different West Bank areas.
According to local sources, the IOF kidnaped a young man from his home in Balata refugee camp, east of Nablus.
During its presence in the camp, the IOF shot dead a Palestinian teenager. The incident happened when the IOF engaged in armed clashes with resistance fighters.
The IOF also stormed the towns of Beita and Beit Dajan in Nablus and kidnaped two citizens from their homes identified as Omar bani Shamsah and Mutasem Hanini.
In Jenin, the IOF kidnaped two brothers identified as Ahmed and Nafie Mousa from their home in Mirka village. Both of them are ex-detainees.
Another young citizen called Yehya Saleem was taken prisoner during an IOF campaign in Azzun town, east of Qalqilya.
In Ramallah, the IOF kidnaped two young citizens, including a woman called Islam Zayed, from their homes in Bireh City. The IOF also clashed with local youths in the city.
In al-Khalil, the IOF ransacked homes in al-Arroub refugee camp and Sa'ir town and kidnaped four young men, three of them from the town.
Meanwhile, the IOF stormed the towns of Yatta and Halhul in al-Khalil province and set up makeshift checkpoints on roads at their main entrances as well as at the northern and southern entrances to al-Khalil City.
In Bethlehem, the IOF kidnaped a young man identified as Shadi al-Qissees from Beit Sahour and two twin brothers called Ahmed and Mahmoud Zarina from Beit Jala.
In a related context, Israeli police forces in Jerusalem on Monday night kidnaped a teenager called Mahmoud Asheer after stopping him at the Bab al-Amud area near the Aqsa Mosque.