We don't recall Giving out Jerusalem to Trump, PLF-P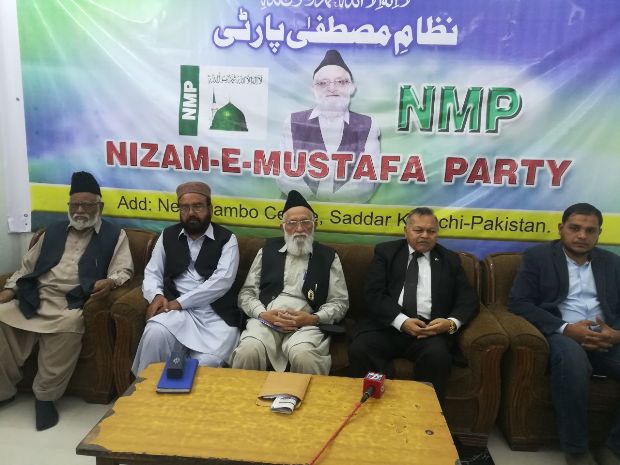 KARACHI (PNIC)
:-Sabir Abu Maryam of Palestine Foundation Pakistan (PLF-P) called Trumps decision dismal giving out something that he had no control over at the All Parties Conference called in by Nizam e Mustafa Party at their Secretariat on Monday.
While addressing the religio-political parties in presence, Sabir Abu Maryam condemned the autonomous verdict passed by Trump in his latest statement giving out Jerusalem to Israel. He said that Israel itself has no legitimacy nor does US hold any jurisdiction of Palestine. In now right mind can anyone accept what Trumps has to offer.
Abu Maryam exclaimed that history is evident that US has been part of wars for its ulterior motives which has led to its own destruction, lest it be economical. He added that Britian and the US has been leading this world according their Order and wish ill for the Muslim Ummah. They stand united in our destruction and with this new statement it is more evident. While they stand united, it is high time that we muslime decide to do the same on the cause of a land which remains sacred for all religions.
PLF-P along with other parties vouched to stand by Jerusalem as an integral part of Palestine and freeing it from the clutches of this capitalist states esp the illicit Israel.
The conference, led by ex-federal minister and chief of Nizam e mustafa party Haji Hanif Tayyab, witnessed organizations from all walks of life to include: ex-federal ministers Muzaffar Hashmi, Muhammad Usman Noori, Member of Sindh Assembly Mahfooz Yaar Khan, Majlis Wahdat Muslimeen Maulana Mirza Yousuf, Jamiat Ulema Islam (F) Allama Abdul Kareem Abid, Pakistan Muslim League (N) Naik Muhammad, Alhaj Rafi, Inamullah Khan, Muhammad Zaki, Nafees Qadri, Allama Shahideen Ashrafi and many others.
Pakistan's Palestine Policy: We will never abandon Father, of Nation Jinnah's footsteps. Mamnoon Hussain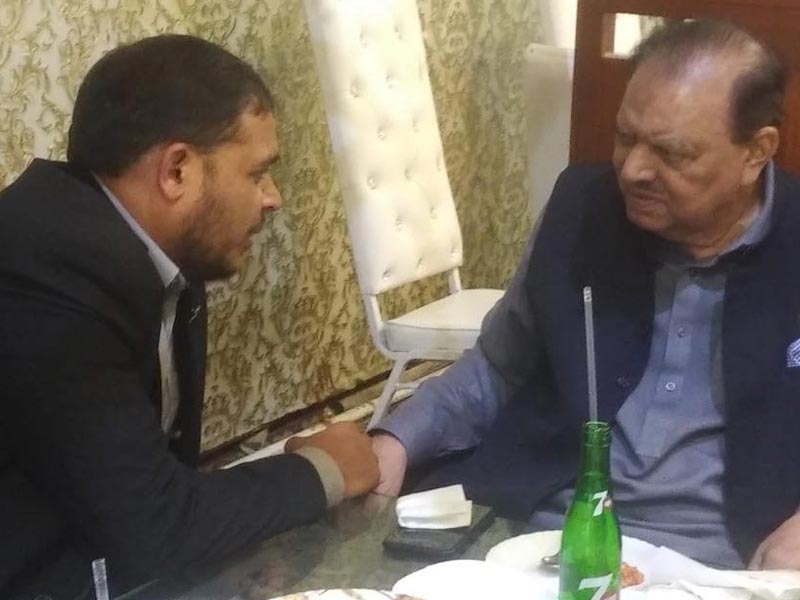 KARACHI (PNIC):-Former President of Islamic Republic of Pakistan Mr.Mamnoon Hussain says that we are bound to follow the path of great founding father of the nation Qauid e Azam Muhammad Ali Jinnah and his stance on Palestine.
Pakistan always Standing with oppressed nation of Palestine and will remain. Mamnoon Hussain says.
PLF General Secretary Mr.Sabir Abu Maryam Met with former President of Islamic Republic of Pakistan Mr.Mamnoon Hussain and discussed various things about the issue of Palestine and Pakistan's stance in it.
Former President Mr.Mamnoon Hussain expresses his fully support with oppressed people of Palestine and categorically said that that Israel is an illegitimate state and we always followed Founding Father Qauid Azam Muhammad Ali Jinnah's stance on Palestine and will never get back even an inch from that stance.
He appreciated Palestine Foundation's great struggle in Pakistan and assure his Cooperation with PLF too.
Israel is an ideological threat to Pakistan: accepting Israel equal to no question of Kashmir. Gen (r) Ghulam Mustafa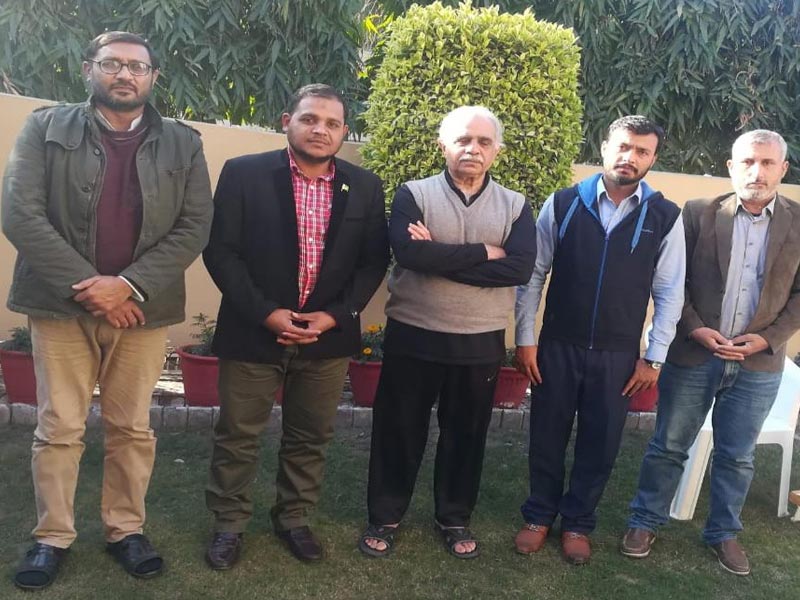 LAHORE (PNIC):-Former Army General Ghulam Mustafa expresses his fully support to Palestinian cause. According to Report during a meeting with Palestine Foundation Pakistan (PLF) delegation he said that Israel is not only threat for Palestinians but for whole region of Middle East and Golf.
Palestine Foundation Pakistan's delegation led by General Secretary Sabir Abu Maryam along with Ansar Abbas, Zahid Murtaza and Yasir Habib met with former army Gen Mr.Ghulam Mustafa at his residence on 16 December Sunday.
During the meeting PLF's Secretary General informed him various issues about Palestine and policy of Arab and Muslim regimes specially developments in Pakistan. He also discuss about some efforts of pro-Zionists factors in Pakistan to normalisation with Zionist regime and Pakistan.
A defence analyst and well known Army Gen Ghulam Mustafa categorically stated that those people are thinking that Israel is friend of Pakistan are in wrong side.
Israel is an ideological threat and enemy of Pakistan and will never benefit to Pakistan: he said.
Gen (r) Mustafa said that if Pakistan accept and protect in tel Aviv but in next step Israel never tolerate Pakistan so normalisation with Zionist regime mean no question of Kashmir.
Even if my head is cut off, I will not accept Israel: Gen (r) Ghulam Mustafa stated. He also affirmed his full support for Palestine Foundation Pakistan.
Pak-Palestine solidarity: cultural show "DABKAH" held at Centaurs Mall Islamabad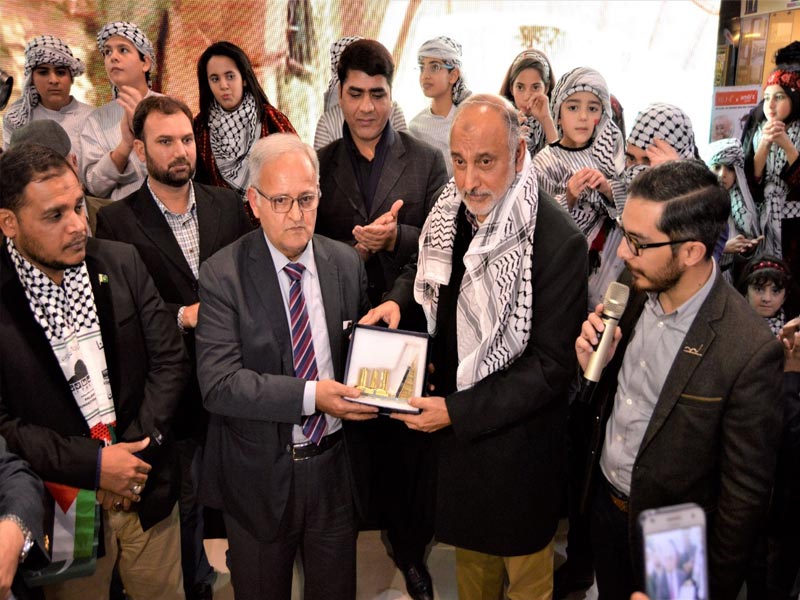 IALAMABAD (PNIC):-Palestinian citizens living in Islamabad capital of Pakistan observed International solidarity day of Palestine at Centaurs Mall Islamabad.
Palestinian cultural show Organized by Palestinian embassy with the collaboration of Centaurs Mall administration on December 15 Saturday.
Hundreds of Palestinians in Pakistan gathered along with thousands of Pakistani citizens to marked an international solidarity day of Palestine.
Palestinian children wearing Kofiya (Palestinian symbolic cloth) performed DABKAH (cultural activity) and also they sand Pakistani National songs too.
A delegation of Palestine Foundation Pakistan (PLF) led by General Secretary Sabir Abu Maryam participated as per special invitation of acting ambassador of Palestine H.E.Mr.Hussni.