We don't recall Giving out Jerusalem to Trump, PLF-P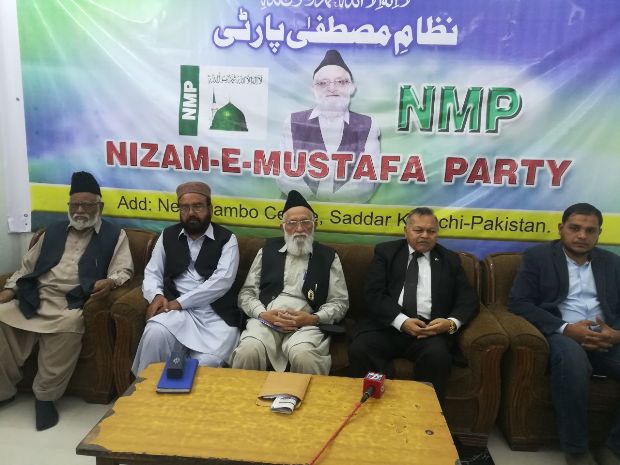 KARACHI (PNIC)
:-Sabir Abu Maryam of Palestine Foundation Pakistan (PLF-P) called Trumps decision dismal giving out something that he had no control over at the All Parties Conference called in by Nizam e Mustafa Party at their Secretariat on Monday.
While addressing the religio-political parties in presence, Sabir Abu Maryam condemned the autonomous verdict passed by Trump in his latest statement giving out Jerusalem to Israel. He said that Israel itself has no legitimacy nor does US hold any jurisdiction of Palestine. In now right mind can anyone accept what Trumps has to offer.
Abu Maryam exclaimed that history is evident that US has been part of wars for its ulterior motives which has led to its own destruction, lest it be economical. He added that Britian and the US has been leading this world according their Order and wish ill for the Muslim Ummah. They stand united in our destruction and with this new statement it is more evident. While they stand united, it is high time that we muslime decide to do the same on the cause of a land which remains sacred for all religions.
PLF-P along with other parties vouched to stand by Jerusalem as an integral part of Palestine and freeing it from the clutches of this capitalist states esp the illicit Israel.
The conference, led by ex-federal minister and chief of Nizam e mustafa party Haji Hanif Tayyab, witnessed organizations from all walks of life to include: ex-federal ministers Muzaffar Hashmi, Muhammad Usman Noori, Member of Sindh Assembly Mahfooz Yaar Khan, Majlis Wahdat Muslimeen Maulana Mirza Yousuf, Jamiat Ulema Islam (F) Allama Abdul Kareem Abid, Pakistan Muslim League (N) Naik Muhammad, Alhaj Rafi, Inamullah Khan, Muhammad Zaki, Nafees Qadri, Allama Shahideen Ashrafi and many others.