Amnesty Int'l: Biden must condemn Israel's systematic human rights violations during visit to region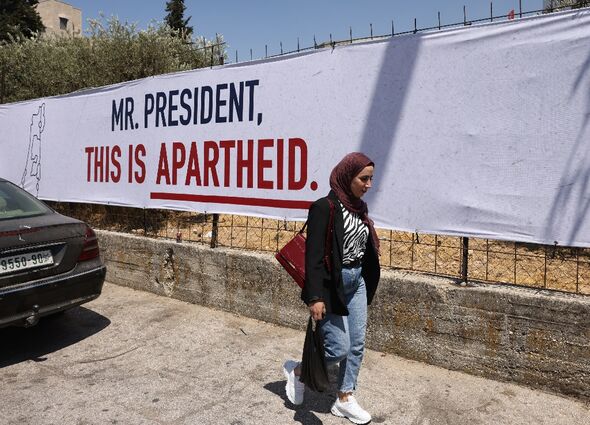 Occupied Palestine – Amnesty International has called on US President Joe Biden to "fulfil his promise to put human rights at the centre of his first visit to the Middle East and North Africa since taking office and do everything in his power to press for immediate and substantive change.
On July 13, Biden landed in occupied Tel Aviv on his first visit to the Middle East in his current role, and he is expected to meet several leaders, including Israeli occupation Prime Minister Yair Lapid and opposition leader Benjamin Netanyahu.
On Friday, he is expected to meet Palestinian Authority President Mahmoud Abbas in Bethlehem.
On the last day of his trip, he will visit Saudi Arabia where he is expected to meet Saudi Arabian King Salman bin Abdulaziz al-Saud and Crown Prince Mohammed Bin Salman.
"The Biden administration must stop its brazen support of shocking crimes under international law and other serious human rights violations committed by its allies, knowingly facilitating rampant abuses with impunity," said Paul O'Brien, Amnesty International USA Executive Director, in a statement released yesterday.
"President Biden must seize this opportunity to prioritize the advancement of human rights over short-term interests, and make clear that there can be no double standards when it comes to promoting human rights. If the US continues on its current course, it will only embolden abusive governments to further silence dissenting voices, oppress minorities and ruthlessly crush the rights of millions of people in the region."
The leading human rights group referred to Israel's killing of Palestinian journalist Shireen Abu Akleh while covering an Israeli military raid in the West Bank on 11 May, saying her killing "provided a stark reminder of the crimes committed by the Israeli authorities to maintain their system of oppression and domination over Palestinians and of the US's role in shielding Israel from accountability."
"Unlawful killings, arbitrary detention, torture and other ill-treatment, collective punishment and forced displacement occur in the context of a system of apartheid against Palestinians across Israel and the OPT," the group added.
"The Israeli government has forcibly displaced entire Palestinian communities and demolished hundreds of thousands of Palestinian homes. In Masafer Yatta, in the southern West Bank, and in Ras Jrabah, in the Naqab/Negev area of Israel, residents are at imminent risk of forced displacement."
"During the latest armed conflict in the Gaza Strip in May 2021, Israeli forces committed apparent war crimes, leaving hundreds dead and thousands injured. Hospitals, homes and other essential infrastructure cannot be rebuilt because of Israel's blockade on Gaza since 2007."
"The lack of accountability for the government of Israel's serious violations, including war crimes and crimes against humanity, is perpetuated by US policy. Instead of providing cover for impunity, the US must support independent, thorough, and credible investigations into these crimes, such as that opened by the International Criminal Court," said Paul O'Brien."
"The Biden administration and US Congress must stop the supply of arms to the Israeli military until it is guaranteed that such equipment would not be used for serious violations of international humanitarian and human rights law."
The prominent group also mentioned the Palestinian authorities' continuous repressing "freedom of expression and peaceful assembly. Security forces responded to protests against the torture and killing of Nizar Banat, a political critic, on 24 June 2021, with the use of unlawful force, arrests and torture and other ill-treatment."