Imamia Students Organisation's Down with USA rally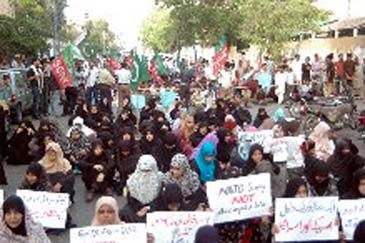 A "Down with U.S.A. and No to Israel" rally was staged on Wednesday to express solidarity with Palestinians on 64th anniversary of proclamation of Zionist regime of Israel on the land of Palestine. 
The rally that was held under the aegis of Imamia Students Organisation (ISO) began from Numaish Chowrangi. The participants of the rally included girls and boys students as well as children. They marched through M A Jinnah Road, Preedy Street and culminated at Karachi Press Club via Regal Chowk.
They burnt the flags of the United States and Zionist regime of Israel. They were carrying placards and banners inscribed with slogans condemning the nexus of the U.S. and Israel that usurped the rights of Palestinians.
Maulana Sadiq, Allama Aftab Haider Jafri, Maulana Munawar Naqvi and ISO's Mohammad Rizvi spoke at the rally.
They said that Palestinians have been deprived of their legitimate rights to live in their homeland. They said that under a systematic and organized but illegal migration of Jews from all over the world to Palestine was made to change the demography of Palestine since the late 19th century to 1940s.They referred to the fact that as soon as Zionist leaders proclaimed the Jewish state of Israel, they started murdering and expelling Palestinians from their homeland in May 1948.
They said that United States, Britain, France and some other countries misused United Nations and imposed catastrophe on Palestine in May 1948. They said that now it is high time for United Nations, UNHCR and UNRWA to correct the mistakes they made in the past. They demanded of the government of Pakistan to withdraw all secret plans aimed at recognition of illegitimate state of Israel. They proposed that United Nations, UNHCR and UNRWA should make arrangements for an immediate return of those millions of Palestinian refugees who were forced to leave their homeland.
They further proposed that Palestinian Muslim, Christians (Arabs) and Jews should sort out the future of whole of Palestine through a referendum. They turned down the legitimacy of Zionist regime saying that it was an illegitimate state that was imposed on Palestine. They were of the views that Zionist regime and United States were responsible for the worst conditions in which Palestine and Palestinians are nowadays. They cited use of veto power by the U.S. to defend and cover-up the crimes of humanity of the Israeli state is an incontrovertible proof of nexus of U.S. and Israel.