'Israel' hands over body of Palestinian killed at point-blank range by Israeli soldier 27 days ago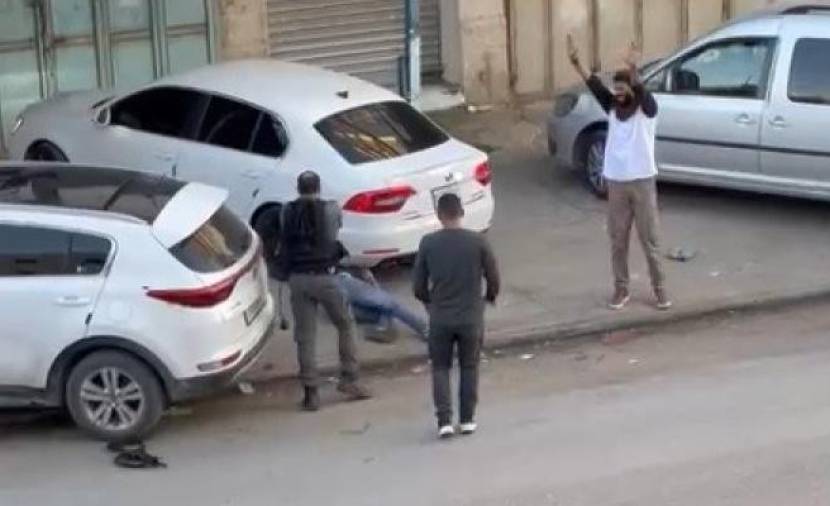 Israeli occupation handed over last night the body of slain Palestinian youth Ammar Mefleh who was shot and killed 27 days ago at point-blank range by an Israeli soldier in Huwwara town and his body was withheld since his killing.
On Thursday night, his body was handed over by the Israeli occupation forces to the Palestinian Red Crescent who later moved him to the Rafidia hospital in Nablus.
On December 2, in the daylight, an Israeli soldier extrajudicially shot and killed 22-year-old Ammar Mefleh, a resident of the Usarin town, at point-blank range in Huwwara town.
Video footage of the incident shared on social media showed the Israeli soldier scuffling with the Palestinian youth before pulling his gun and mercilessly firing four shots, killing him immediately and seizing his body.
The Palestinian was hit in the upper body and fell to the ground. Two of the shots hit him while he lay on the ground.
The brutal killing left people — some of them tried to break up the scuffle — at the scene shocked.
Local sources reported that Israeli forces present at the scene prevented residents and ambulances from providing aid to the injured youth.
Eyewitnesses said that after an Israeli settler shot at the Palestinian youth from his car and wounded him, Israeli soldiers attacked the man and let the settler off. The young man then attempted to free himself from the soldier before being shot dead.
A military funeral parade will be held for the young man today, before laying to rest in the cemetery in the town.
Israeli occupation authorities' practice of confiscating and withholding Palestinian bodies is a violation of international humanitarian law and international human rights law, which include absolute prohibitions on cruel, inhuman, or degrading treatment, as well as stipulate that parties of an armed conflict must bury the deceased in an honorable way, rights groups have said.
For families, the practice amounts to collective punishment in violation of international humanitarian law.
Israeli occupation is withholding the corpses of 370 Palestinians killed in action since 1967 who are buried at the "numbers cemetery," including 11 prisoners who died in prisons.