'Israel' hands over body of slain Palestinian child after withholding it for about 6 days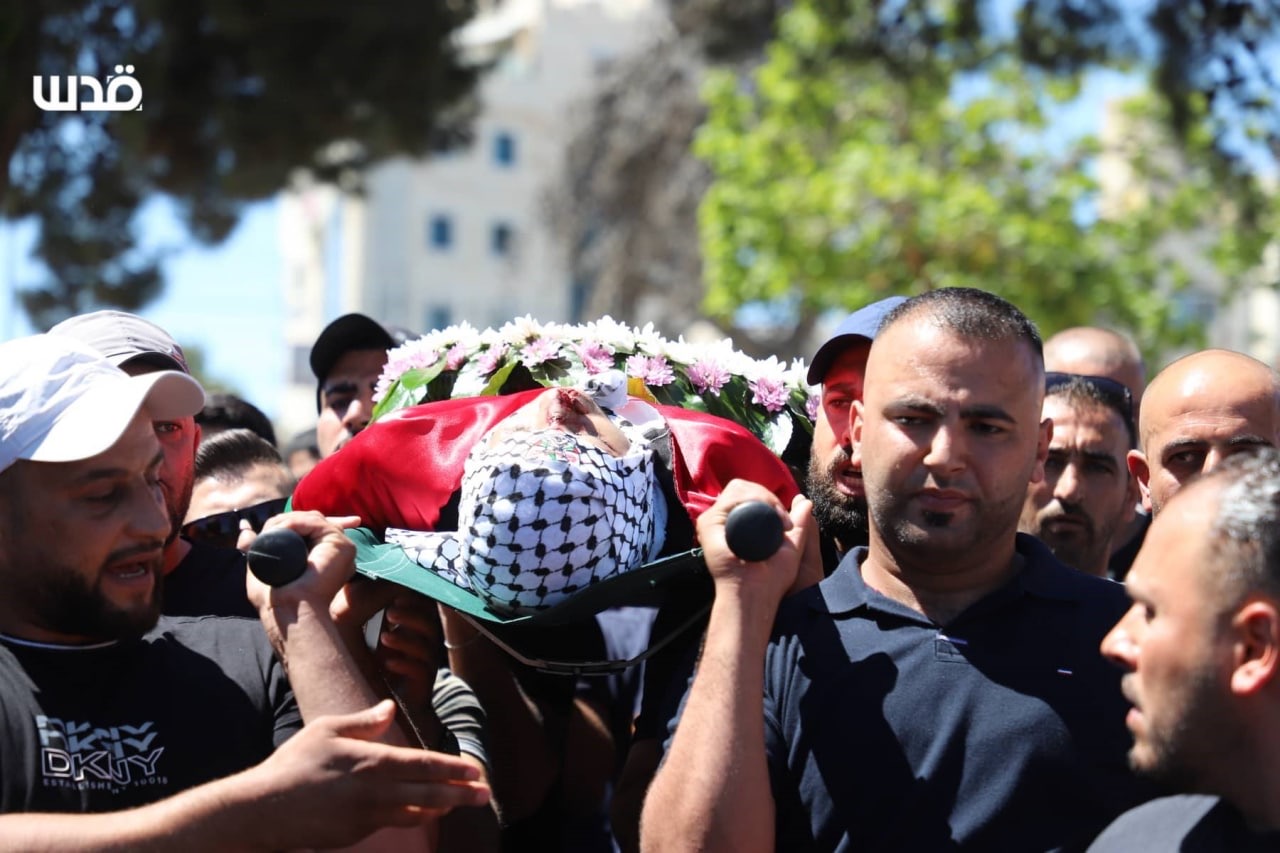 Ramallah – Hundreds of Palestinians took part yesterday in the funeral procession of 16-year-old slain Mohamed Hamed who was killed by Israeli gunfire on June 25 in Silwad town, east of Ramallah.
The Israeli occupation forces shot Mohamed Hamed with live ammunition around 7:45 p.m. on June 24 during a raid near Silwad.
After shooting and arresting him, Israeli ambulance moved Hamed to Shaare Zedek Medical Center in occupied Jerusalem around 8:30 pm.
Hamed was pronounced dead on June 25 at dawn while he was in Israeli custody. His body was expected to be released later that day.
However, the Israeli occupation handed over Hamed's body on June 29 at night after withholding it since the day of his killing.
Local sources reported that Hamed was left for around 45 minutes after he was shot before being transferred to that Medical Center.
More than 62 Palestinians have been killed by Israeli forces since the start of this year, according to the Palestinian Health Ministry.
Hamed is the 15th Palestinian child shot and killed by Israeli forces in 2022, according to documentation collected by Defense for Children International – Palestine.
"Israeli soldiers know no bounds and kill Palestinian children with impunity," said Ayed Abu Eqtaish, accountability program director at DCIP. "Palestinian children will continue to be targeted. They will continue to be unlawfully killed without actual justice and accountability."
2021 was the deadliest year for Palestinian children since 2014. Israeli forces and armed settlers killed 78 Palestinian children, according to evidence collected by DCIP.
Regarding withholding Palestinian martyrs' bodies, for families, Israel's practice of withholding their sons' bodies amounts to collective punishment in violation of international humanitarian law.
Since 1967, 'Israel' had also established cemeteries of numbers in closed military zones where it held the bodies of Palestinians and Arabs who were killed during the war or the struggle against the Israeli occupation of the West Bank, eastern part of Jerusalem and Gaza Strip.
'Israel' is still withholding the bodies of 104 Palestinian martyrs killed by its forces since 2015, including the bodies of nine detainees, according to the Palestinian Commission of Detainees.
Al-Haq, a Palestinian human rights group, says "the withholding of Palestinian bodies is a standard practice long used by Israel which violates its obligations as an Occupying Power under international law. Customary international humanitarian law stipulates that parties to an armed conflict must respect the dead who "must be disposed of in a respectful manner." It further obliges parties to the conflict to return the remains and personal effects of the dead to their families. In addition, Article 17 of the Second Geneva Convention requires that the deceased must be held in accordance with the religious rites that they belong to."