Seminar on Palestine is a country of Palestinians held in Peshawar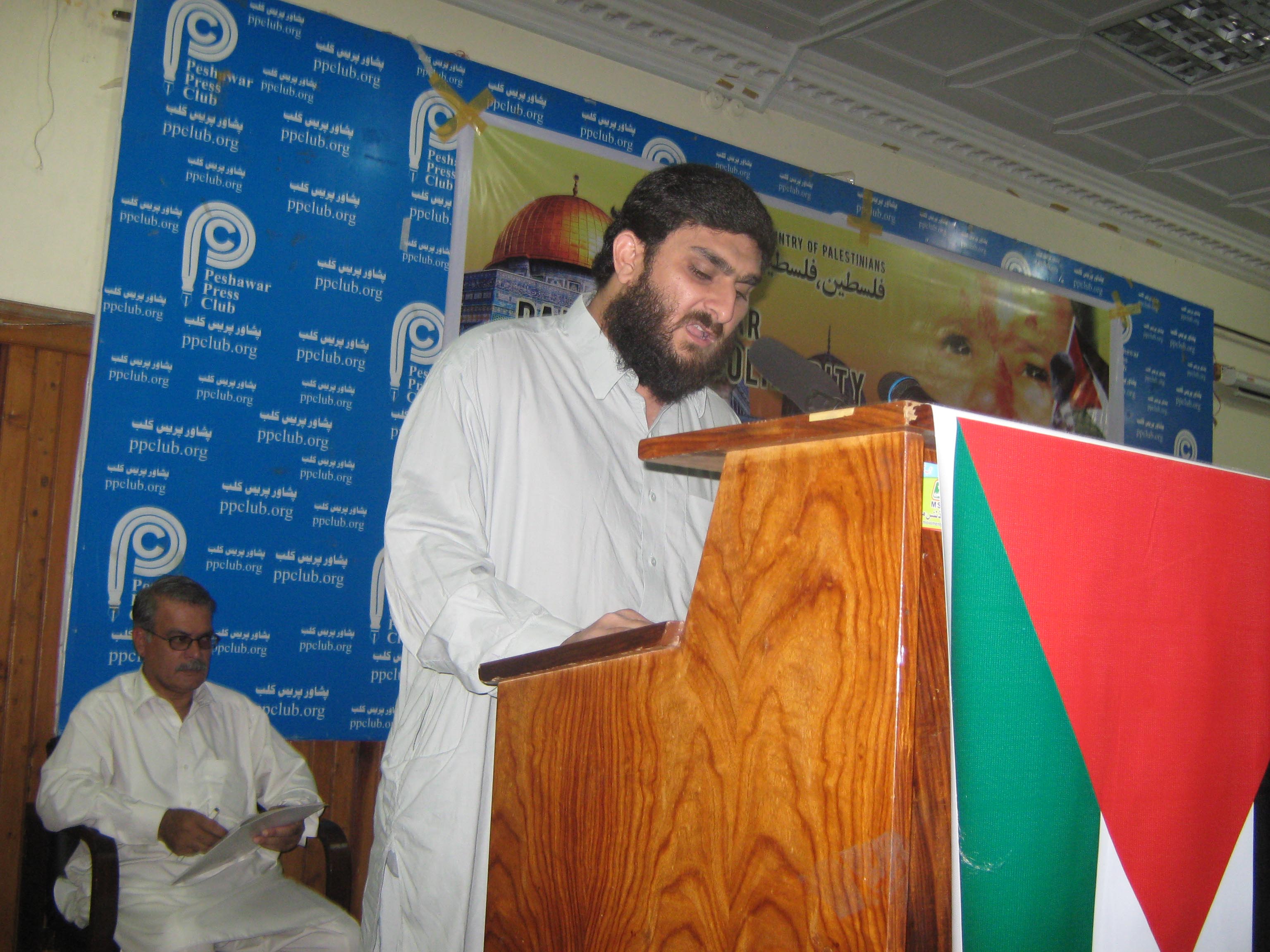 A seminar on "Palestine is a country of Palestinians" was held under the aegis of Palestine Foundation Pakistan Peshawar chapter.
 Awami National Party's senior vice president Haji Mohammad Adeel Khan, Senator Professor Mohammad Ibrahim, president of Jamaat-e-Islami Khyber Pukhtoonkhwa chapter, Qari Fayyaz ur Rehman, ex-MNA and a leader of the JUI-F, Shaukat Shah of All Pakistan Muslim League, Allama Zafar Shah Naqvi, a known religious scholar, Professor Khalil ur Rehman, vice chancellor of Shaikh Zaid Islamic University, spoke at the seminar.
 A large number of journalists, members of civil society and religious and political parties attended the seminar.
 Haji Mohammad Adeel of the ANP said that Islamic countries should take serious steps to resolve Palestine issue. He said that Palestine issue belongs to whole of human beings but it is basically responsibility of Muslim Ummah to play their leading role to resolve the issue. 
"We turn down forced expulsion of Palestinians from Palestine. We appeal to United Nations and the world nations to help grant Palestinians their right to return Palestine," he said.  
 Haji Adeel urged Pakistan government to play an active, effective and leading role according to aspiration of people of Pakistan. 
Senator Professor Mohammad Ibrahim said that last Friday of Ramzan is observed as an International Quds Day. He said that people of Peshawar also observe Quds Day to express solidarity with Palestine and Palestinians. He urged all Muslims to vent their anger over United States and Zionist regime of Israel. 
Qari Fayyaz ur Rehman of JUI-F, Shaukat Ali Shah of APML, Allama Zafar Shah Naqvi and Professor Khalil Ur Rehman, Vice Chancellor of Shaikh Zaid Islamic University said that Palestine belongs to Palestinians. They urged that Palestine should be returned to Palestinians with al Quds as its capital. 
They said that Zionists was being weakened and now Israelis started protesting against Israeli government and they resort to self-immolation.
 The speakers vow to continue their moral and political support till the freedom of Palestine. 
At the end of the seminar, following resolution was adopted: 
The Participants of seminar on Palestine salute great people of Palestine, their great resistance and intifada against Zionist Israeli occupation and we assure them:
1.      We recognize Palestinians right of self determination.
2.      We support Palestinians right to return their homeland.
3.       We support Palestinians resistance to illegitimate Israeli occupation.
4.      We believe that Israel is a poison for humanity and we demand democratic forces to play their role to grant Palestinians their right of self determination.We believe:
 Illegitimate Zionist regime of Israel has ruined the fundamental rights of Palestinians by an illegal siege of Gaza. 
We condemn illegal Jewish settlements and all sorts of constructions by Israelis in Gaza, West Bank and East Jerusalem. 
United States and its allied European countries patronize Zionist regime and have double standards for Palestine and they don't support Palestine's democratically elected government. 
The massacre of Palestinians by Israelis and targeted assassinations of Palestinian leaders are known to the world. More than 11,000 Palestinians are illegally imprisoned and kept in the worst conditions. 
All Palestinians have been fallen victims to the biased Israelis. 
Hundreds of thousands of Palestinians have to live under forced exile. 
Zionist ideology is an integral part of Israeli thinking and decision-making process. 
We pledge that: 
Last Friday of Ramzan will be observed as International Quds Day and we appeal to Pakistan government to declare it a holiday and observe the day officially. 
We believe that root cause of all problems of Pakistan and terrorism is Israel and her patron countries such as United States and European countries. Therefore, to defend Palestine is tantamount to defence of Pakistan. A mass mobilisation campaign will be launched about it. 
Efforts will be made to get people of Pakistan together on the issue of Palestine. 
All possible cooperation will be made for the struggle of Palestine's freedom. 
Israel and Israeli goods will be boycotted at all levels. 
A campaign will be launched against Israel by holding cultural and sports programmes in educational institutions. 
The institutions and governments, who have any sort of relations with Israel, will be opposed.Another campaign will be launched to mobilize public opinion that Israel is a world terrorist. 
The war crimes of Israel will be exposed in all over Pakistan and the world.
 We urge United Nations to restore resolution that equates Zionism with Racism and we urge the UN to liberate Jerusalem from Israeli control forthwith.