"This is apartheid," B'Tselem greets Biden with billboards ahead of 'Israel' visit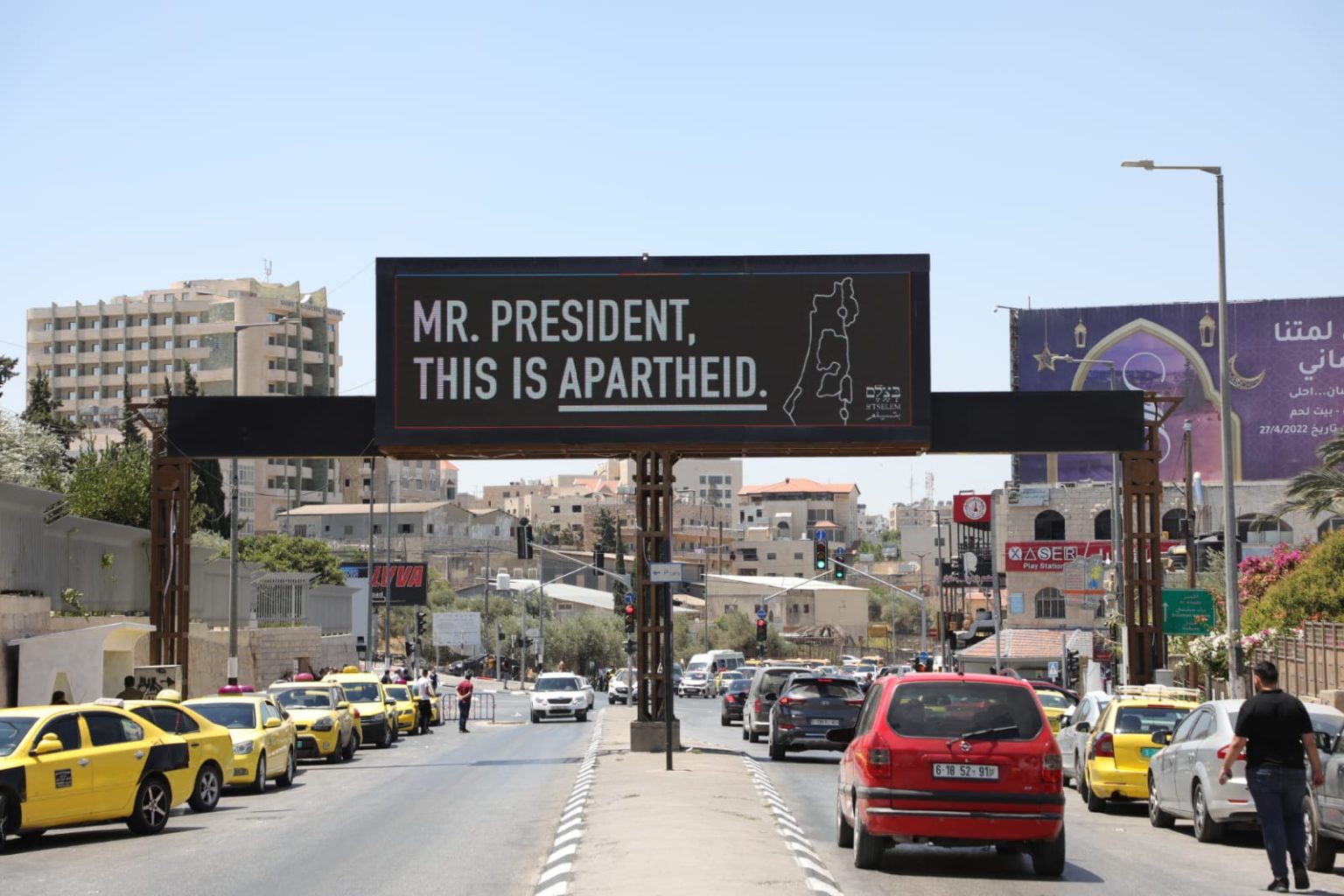 Occupied Palestine (QNN)- Leading Israeli human rights group, B'Tselem, greeted on Wednesday US President Joe Biden with billboards reading "This is apartheid," in the occupied West Bank.
"Mr President, this is apartheid," the billboards and digital screens read which were put up in the occupied West Bank cities of Ramallah and Bethlehem by B'Tselem, which released an exhaustive report last year detailing how 'Israel' is an anti-democratic "apartheid regime" whose policies impose Jewish supremacy over Palestinians living between the Jordan River and the Mediterranean Sea.
The billboards were put up to protest Washington's unconditional support for such brutal inequality.
The US president landed in occupied Tel Aviv on Wednesday afternoon on his first visit to the Middle East in his current role.
In a statement issued yesterday, B'Tselem said, "President Biden, this is apartheid. The US presidential visit perpetuates reality instead of changing it."
"False symmetry, of visiting West Jerusalem as well as the Occupied Territories, does not change the fact that Jerusalem controls also the OPT. When the US stops backing Israel's apartheid – it will end."
Without $3.8 billion in annual military aid from the United States, B'Tselem added, "Israel would not have been able to politically, geographically, and demographically reengineer the area under its control; to impose military rule over millions of subjects and deny them rights for 55 years; to annex East Jerusalem to its sovereign territory; or to systematically discriminate against its Palestinian citizens."
"When the U.S. stops backing Israel's apartheid—it will end," the group tweeted.
In his first Middle East trip as president on July 13-16, Biden is expected to meet separately with Palestinian and Israeli occupation leaders.
B'Tselem Executive Director Hagai El-Ad said on Wednesday, "The US must acknowledge that the area between the Jordan River and the Mediterranean Sea is governed by an apartheid regime, and change its attitude to Israel accordingly. When the attitude changes – so will the regime."
Earlier this year, the international human rights group Amnesty International also declared 'Israel' as an apartheid regime, releasing a report stating that 'Israel' perpetrates apartheid against Palestinians and calling on the International Criminal Court to add an investigation of apartheid to its ongoing examination of Israel's war crimes.