Due to medical negligence, Palestinian prisoner dies in Israeli jails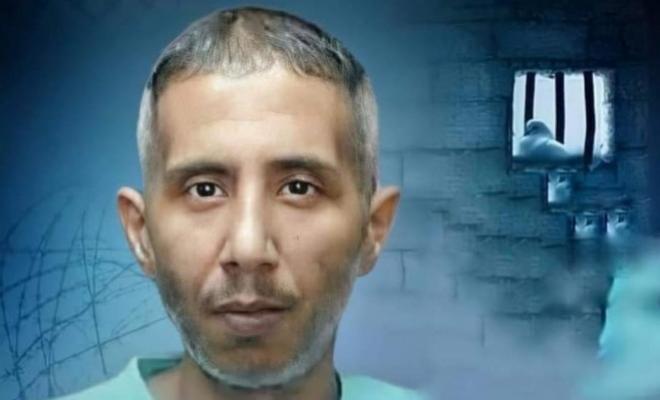 Occupied Palestine – Palestinian prisoner, Sami al-Amour, died at dawn of Thursday inside the Israeli jails due to deliberate medical negligence, the Palestinian Prisoner's Society (PPS) said.
The PPS said that 39-year-old Sami al-Amour died in his prison cell at dawn today as a result of deliberate medical negligence by Israeli occupation administration prison after a serious deterioration in his health.
Al- Amour, from the city of Deir al-Balah in the Gaza Strip, was detained in 2008 and sentenced to 19 years.
He suffered from a congenital heart disease but the Israeli deliberate medical negligence caused a serious deterioration in his health.
Several days ago, al-Amour was transferred from Nafha prison to Ashkelon prison. Later, he was transferred to Soroka hospital to have a surgery but it failed.
On Tuesday, al-Amour was taken to have a heart surgery before he was announced dead earlier today.
During his detention, the occupation deprived al-Amour of the visit of his family; his father visited him 3 times only during 14 years.
Yesterday, an Israeli repressive unit cracked down on Jameel Ankoush after he protested against the Israeli medical negligence against his sick inmate al-Amour.
Ankoush has been criticizing the Israeli policy of medical negligence, which has been being practiced against al-Amour. He had an argument with Israeli jailers in a prisoner transport vehicle, asking them to provide medical care to al-Amour. However, as soon as he went back to his cell, a group of Israeli repression forces attacked him, leaving him severely wounded.
The occupation state is holding 550 ill political detainees in prisons and uses medical negligence against them as part of its policy to weaken them.
Since 1967, 227 Palestinian prisoners died inside the Israeli jails, 72 of them died due to deliberate medical negligence.