UK reviews moving British embassy in Tel Aviv to occupied Jerusalem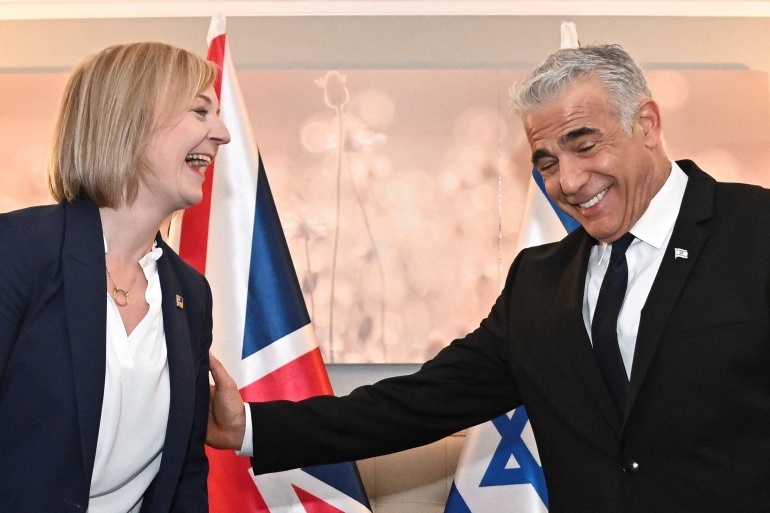 UK Prime Minister Liz Truss is considering moving Britain's Israel embassy in Tel Aviv to the occupied city of Jerusalem – a decision that would follow former US President Donald Trump's provocative move.
Truss told Israeli Prime Minister Yair Lapid she is weighing the relocation during a meeting at the United Nations summit in New York City on Wednesday, The Telegraph reported.
An unnamed UK government spokeswoman said Truss informed Lapid "about her review of the current location of the British Embassy in Israel," according to news reports.
In response, Lapid tweeted today his thanks to the British leader for considering the move. "We will continue to strengthen the partnership between the countries," he said.
In 2017, former US President Donald Trump recognized Jerusalem as Israel's capital and moved the U.S. Embassy to the occupied Jerusalem in May 2018, prompting criticism from the Palestinians, most Muslim-majority countries, and many states in Europe, as they concerned that it would undermine prospects for a two-state solution to the so-called "Israeli-Palestinian conflict."
The UK prime minister at the time, Theresa May, criticized Trump's move. Truss, however, told the UK's Conservative Friends of Israel last month, before she became prime minister, that she would review the UK's decision to remain in Tel Aviv if she became the British leader.
"I understand the importance and sensitivity of the location of the British Embassy in Israel. I've had many conversations with my good friend Prime Minister Yair Lapid on this topic," she said.
The United States, Honduras, Guatemala, and Kosovo are the only nations who have their embassies in occupied Jerusalem.