We will continue to defend Palestinians, Israel wants to divide Muslims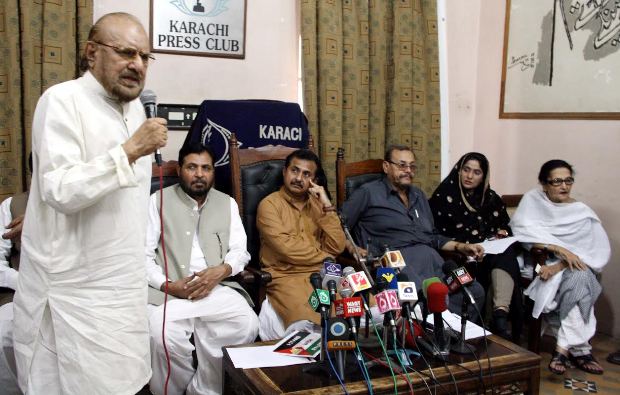 we condemn Israeli Foreign Minister's statement Muzaffar Hashmi, Allama Qazi Noorani, Mehfooz Yar Khan, Molana Baqar Zaidi, Sabir Abu Maryam and others expressed their thoughts
Karachi: Members of central leading committee of Palestine Foundation Pakistan including former member of National assembly and leader of Jamat e Islami Muzaffar Ahmed Hashmi, central leader of MWM Molana Baqar Zaidi, President of Jamiat e Ulema e Pakistan Karachi Allama Qazi Ahmed Noorani Siddiqui, President of MQM's legal committee Mehfooz Yar Khan Advocate and central Secretary General of Palestine Foundation Pakistan Sabi Abu Maryam declared the defense of Palestine as the basic and foremost responsibility of Muslim Ummah and said that it would continue to defend Palestinians. These thoughts were expressed while addressing the meeting of working committee of Palestine Foundation Pakistan.
Leaders of Palestine Foundation Pakistan strongly condemned Israel Foreign Minister's statement issued to thank Sunni Muslims and said "Israeli Foreign Minister by declaring Sunni Muslims as Israel's well-wisher made it clear that it is behind creating divisions among Muslims all over the world".
They, in an attempt to make it clear, said "if some Arab states are supporting Israel that does not mean all Sunni Muslims of the world are its sympathizers". They strongly condemned all those rulers of Arab states who have maintained relations with the oppressive country and announced that Muslims from all over the world were united and would continue to fight till the independence of the first Qibla.
It should be clear that Israeli PM's advisor Dougray Gold had said few days earlier that Sunni Muslims of the world are supporters of Israel.